In English folklore,
Puck
is a mythological
fairy
or mischievous nature sprite. Puck is also a generalised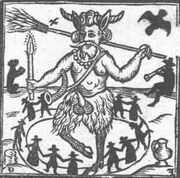 personification of land spirits. In more recent times, the figure of
Robin Goodfellow
is identified as a puck.
Etymology
Edit
The Old English "puca" is a kind of half-tamed woodland sprite, leading folk astray with echoes and lights in nighttime woodlands (like the German and Dutch "Weisse Frauen" and "Witte Wieven" and the French "Dames Blanches," all "White Ladies"), or coming into the farmstead and souring milk in the churn.
Significantly for such a place-spirit or genius loci, the Old English. According to the Oxford English Dictionary, the etymology of the name Puck is "unsettled", and it is not clear even whether its origin is Germanic (cf. Old Norse puki, Old Swedish puke, Icelandic puki, Frisian Puk), or Celtic (Welsh pwca and Irish púca).
One inference would surmise that a theoretical Proto-Indo-European original for both is earlier than the linguistic split.
According to Paul Devereux, the names of various creatures from Celtic folklore, including the Irish, "púca," Welsh, "pwca" or "pwca," could be from the same Celtic family.