In Irish folklore, leprechauns are a kind of
fairies
, in the form of small, old men.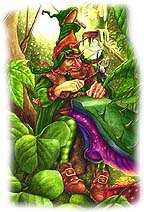 Ethymology
Edit
The name leprechaun is derived from the Irish word leipreachán, defined by Patrick Dinneen as "a pigmy, a sprite, or leprechaun". The further derivation is less certain; according to most sources, the word is thought to be a corruption of Middle Irish luchrupán, from the Old Irish luchorpán, a compound of the roots lú (small) and corp (body). The root corp, which was borrowed from the Latin corpus, attests to the early influence of Ecclesiastical Latin on the Irish language. The alternative spelling leithbrágan stems from a folk etymology deriving the word from leith (half) and bróg (brogue), because of the frequent portrayal of the leprechaun as working on a single shoe.
A modern stereotypical depiction of a leprechaun of the type popularised in the 20th century.The earliest known reference to the leprechaun appears in the medieval tale known as the Echtra Fergus mac Léti (English: Adventure of Fergus son of Léti). The text contains and episode in which Fergus mac Léti, King of Ulster, falls asleep on the beach and wakes to find himself being dragged into the sea by three lúchorpáin. He captures his abductors, who grant him three wishes in exchange for release.
The leprechaun is said to be a solitary creature, whose principal occupation is making and mending shoes, and who enjoys practical jokes. According to William Butler Yeats, the great wealth of these fairies comes from the "treasure-crocks, buried of old in war-time", which they have uncovered and appropriated. According to McAnally the leprechaun is the son of an "evil spirit" and a "degenerate fairy" and is "not wholly good nor wholly evil".
Community content is available under
CC-BY-SA
unless otherwise noted.